08-Aug-2020
---

"The Impact of COVID-19 and the Future of International Education"
September 2–4, 2020 | Kansai University, Osaka, Japan
All the events will be coordinated by online settings.

Overview
The internationalization of universities has become a central topic for our society. However, the fostering of globally-minded talent, international student recruitment and admissions, internationalization of the campus environment and curriculum, and analysis of study abroad program outcomes have all stalled in recent years. As the COVID-19 pandemic has created a critical juncture in international education, it is now all the more important that we train and support the faculty and mid-level staff tasked with moving this work forward. Therefore, we are holding various workshops and sessions for the staff members and faculty who underpin university internationalization. This project is organized by the Research Consortium for the Sustainable Promotion of International Education (RECSIE) and held in cooperation with Kansai University IIGE (Institute for Innovative Global Education) and Toyo University.
We look forward to seeing you in Japan this summer.
---

Keynote Speaker: Fiona Hunter
Fiona Hunter is Associate Director at the Centre for Higher Education Internationalisation (CHEI) at the Universita Cattolica del Sacro Cuore in Milan, Italy, and works as a consultant, trainer, and researcher with a focus on strategic change. She is also a member of the International Advisory Board at the Universidad de Granada, Spain, member of the Scientific Council of AVEPRO (Holy See's Agency for the Evaluation and Promotion of Quality in Ecclesiastical Universities and Faculties), and Co-Editor of the Journal of Studies for International Education. Fiona is an EAIE Past President.

Keynote Speaker: Kuniaki Sato 佐藤 邦明
Director, Office for International Planning,
Higher Education Bureau – Ministry of Education, Culture, Sports, Science and Technology
文部科学省 高等教育局 国際企画室長

Keynote Speaker: Chikara Funabashi 船橋 力
Project Director, Public-Private Joint Project for Overseas Education Promotion MEXT
文部科学省 官民協働海外留学創出プロジェクト 
トビタテ!留学JAPAN プロジェクトディレクター
---
Contact: Research Consortium for the Sustainable Promotion of International Education (RECSIE) recsie@recsie.or.jp
16-Jun-2020
---
The Fulbright Commissions in Japan and the Philippines, in partnership with the Okinawa Institute of Science and Technology (OIST) Foundation, will host a webinar entitled "Strengthening Transnational Bonds in the Era of Online Connections: Research and Educational Exchange in the U.S., Japan, and the Philippines." The free online discussion is a collaboration between Fulbright Japan, Fulbright Philippines, the OIST Foundation, the Philippines' Commission on Higher Education (CHED), and edX, an online platform for education and learning. The webinar will go live on June 30 (8:00 AM, Manila).

The webinar aims to gather participants from higher educational institutions (HEIs) and educators from various fields of learning and disciplines. The online platform also gives an opportunity to discuss new trends and creative approaches to building international connections between and among students, HEIs, and educators.

Registration Details:
Date and Time: June 30, 2020 (8:00 AM, Manila)
Registration Link: https://tinyurl.com/fulbrightcovid19
Email inquiries: fulbright@fulbright.org.ph

26-May-2020
---
In the current difficult situation caused by the Covid-19 global pandemic, international educators are facing unprecedented challenges. During these webinars, we will invite experts to comment on and explain how educators can offer effective learning opportunities for their students during this time. Please join our special webinar series below. We will also offer seminars and workshops related to these topics at SIIEJ (Summer Institute on International Education, Japan) in September 2020. For more information, please visit http://recsie.or.jp/
Followed by series I to IV, which were conducted in Japanese, we will be offering another series of webinars in English, for a wider global audience. Please see information about these below.
Series V : Covid-19 and Paradigm Shift of International Education
Wednesday, May 27th  10:30am-12:00 JST
This session will focus on the possible paradigm shift in student mobility post COVID-19. The presenters will introduce current research related to the effects and implications of COVID-19 on higher education.

Speakers
Deane Neubauer (University of Hawaii)
Ka Ho Mok (Lingnan University)
Padmore Amoah (Lingnan University)
Kazuo Kuroda (Waseda University)
Language
English
Registration for Series V
https://tinyurl.com/recsie-05

You will receive a webinar guide promptly after your registration. Please contact us if you do not receive the guide at recsie@recsie.co.jp.
---
Series VI: How are international partnerships affected by Covid-19?
Wednesday, June 10th 8:00pm-9:30pm JST
The purpose of this session is to discuss how institutional partnerships will be altered due to the COVID-19 pandemic. The speakers will share their views on how partnerships for international education and student mobility will be affected in their regions. The session will deal with not only bilateral partnerships but also multilateral relationships and regional networks.

Speakers
Cheryl Matherly (Vice President/Vice Provost, International Affairs, Lehigh University, Past President of AIEA)
Mirko Varano (KTH Royal Institute of Technology, Sweden)
Nopraenue S. Dhirathiti (Mahidol University)
Language
English
Registration for Series VI
https://tinyurl.com/recsie-06
You will receive a webinar guide promptly after your registration. Please contact us if you do not receive the guide at recsie@recsie.co.jp.
---
Series VII: Possible remedies – student mobility in Asia and the Pacific during Covid-19 pandemic
Wednesday, June 24th 10:30am-12:00 JST
This webinar will focus on remedies and alternative international education models for future students who have experienced hardship due to the pandemic. The presenters will discuss how we can create new education models and introduce innovative programs such as virtual exchange, COIL (Collaborative Online International Learning) and hybrid programs.

Speakers
Randall Martin (British Columbia Council for International Education)
Chris Ziguras (RMIT)
Keiko Ikeda (Kansa University)
Language
English
Registration for Series VII
https://tinyurl.com/recsie-07
You will receive a webinar guide promptly after your registration. Please contact us if you do not receive the guide at recsie@recsie.co.jp
13-May-2020
---
– All are invited to the Webinar –
This program aims to discuss the impact that the current Covid-19 has had on international higher education and how universities are reacting to the situation. It follows through the plan of actions done by universities from different parts of the world in dealing with this global battle. The pandemic has changed what traditional teaching and learning environment used to be like and universities have to now accelerate their speed of transformation in adapting to these new challenges.
The panel of experts consist from scholars to practitioners from four different regions sharing their experiences in dealing with this unplanned necessary change. The discussion includes their strategy in embracing this new normal of education and the preparations involved in realizing this strategy.
PROGRAM OBJECTIVES
1. To provide participants with practical competencies and transferable skills in response to evolving higher education landscape.
2. To impart knowledge of the current trends and challenges of higher education globally.
3. To explore the strategic management and decision- making processes required in dealing with change and transformation.
ORGANIZER
Higher Education Leadership Academy (AKEPT)
Ministry of Higher Education, Malaysia
in collaboration with
International Relations Centre (UKM Global)
The National University of Malaysia (UKM)
Email: partnerships@ukm.edu.my
19-Nov-2019
---
UMAP Summer Program is a special summer program provided by UMAP. Place and content of the program differs every year depending on the organizer of the program.
It started in 2016 as "UMAP Discovery Camp 2016 (UDC2016)" hosted by the Commission on Higher Education of the Philippines in partnership with De La Salle University, Lyceum of the Philippines University-Bantagas and Ateneo de Manila University. The purpose of the UDC2016 was to learn about Asian arts, culture, and cuisine, and discuss about environment and climate change.
The following UMAP Summer Programs have successfully completed:
Dates: August 14 – 27, 2017
Theme: History and presence of Japanese culture, society and the environment
Organizers: UMAP Japan National Committee, Niigata University and Toyo University.
Dates: July 22- August 4, 2018
Theme: Global Citizenship
Organizers: Office of Higher Education Commission and three co-host universities, namely, Chulalongkorn University (CU), King Mongkut's University of Technology Thonburi (KMUTT) and Bangkok University (BU).
Dates: August 4 – 17, 2019
Theme: Contemporary Taiwan
Organizers: Ministry of Education, UMAP Taiwan National Secretariat, Fu Jen Catholic University
Further information regarding registration period will be announced on the News Section at a later date.
*Program overviews for 2020 Summer Program will be announced by the end of January 2020.
*China will host the program for 2021.
Please refer to the following "Program List" for more information of the program during that time period.
06-Nov-2019
---
Conference on UMAP as a Platform for Academic Mobility: Home-Based Internationalization, Part II
The Commission on Higher Education and the UMAP Philippines Council co-hosted the conference on "UMAP as a Platform for Academic Mobility: Home-based Internationalization, Part II" on 23-24 October 2019 at Novotel, Cubao, Quezon City.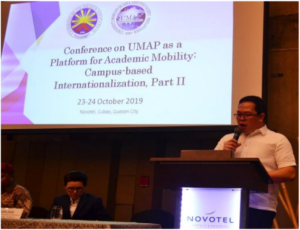 The conference provided a multidisciplinary forum to discuss the prime movers of academic mobility, look beyond the standard full-program or semester-based study abroad mobility and focus on the benefits of internationalization "at home," understand the complex phenomenon and identify emerging issues and trends of student mobility here and abroad, and increase awareness on the future scenario of academic mobility among UMAP members and the accelerated pace of change in international education.


The UMAP conference was attended by 120 participants from UMAP member HEIs, UMAP Philippines Council Board, resource speakers from Indonesia, Japan, Thailand and the Philippines, and CHED officials.


CHED Commissioner, Dr. Aldrin A. Darilag emphasized that the role of the CHED and the UMAP is to make Internationalization of higher education an integration of intercultural learning accessible to students especially through campus based or home-based internationalization programs which requires commitment towards this endeavor.


Dr. Lourdes Nepomuceno, President of UMAP Council Philippines, stated that both the CHED and UMAP are the hub of relevant and meaningful Internationalization and the sharing from speakers can help HEIs appreciate and put into focus campus-based internationalization.

Dr. Donludee Jaisut from Kasetsart University, Thailand gave tips on internationalization. She said that first, find your expertise and be ranked accordingly; second, design international programs for students to choose ranging from bachelor's degree, master's degree, or PhD; third, be prepared to have competitive buildings and facilities; fourth, an international dormitory is required if you want to house inbound foreign students and fifth, choose partner universities for exchange programs which may either be short term or long term, like research collaborations.


Ms. Naoko Kimoto from UMAP International Secretariat Japan enlightened the participants on the easy way to get into Programs A&B, Program C and the Research Net. She informed the body that there are UMAP Scholarships given by the Japanese government for short term and semester long courses, while the Taiwanese government offers scholarship for semester long courses.


16-Apr-2019
---
Students who apply to UMAP exchange programs for Inbound/Outbound Japan are now eligible to apply for a special allocation of scholarships under FY2019 JASSO-MEXT Student Exchange Support Program!
For more information: http://umap.org/forstudents/#financial-aid
28-Mar-2019
---
Call for Papers
2nd International Conference on Business, Economics and Finance (ICBEF)
Theme: New technologies, dynamic business environment, and growth for future
31 July – 1 August 2019
Universiti Brunei Darussalam,
Brunei Darussalam
KEY DATES:
Deadline for submission of abstract
extended to 31 March 2019
Author Notification starts
31 March 2019
Full paper submission
1 June 2019
Conference dates
31 July – 1 August 2019
We invite you to submit competitive papers for this conference.
More information is available in the attached leaflet and also at http://sbe.ubd.edu.bn/ICBEF.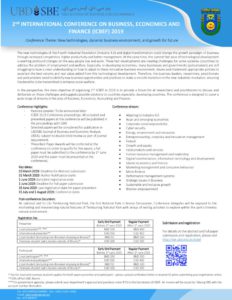 Do not miss this opportunity!
We look forward to your participation in ICBEF and hope to see you.
ICBEF Organising Committee
UBD SCHOOL OF BUSINESS AND ECONOMICS 
UNIVERSITI BRUNEI DARUSSALAM
Jalan Tungku Link,
BE1410, Brunei Darussalam
Telephone: +673 2463001
EXT : 1102 / 1104 / 1105
25-Mar-2019
---
The Office of the Higher Education Commission (OHEC), Ministry of Education, Thailand in collaboration with seven Thai universities have launched the FEALAC Short Course Student Exchange Program 2019 entitled "Sustainable Development: Intercultural Business and Tourism in Thailand" during 30 June – 25 July 2019 in Thailand.
Students will experience not only Thai culture but also cultural diversity in Thailand. Moreover, students will have a chance to see business environment as well as tourism and hospitality in Thailand and how Thailand manages creative and sustainable tourism. Importantly, all participating students will be able to get to know each other and understand more about FEALAC member countries.
The call for applications of FEALAC Short Course Student Exchange Program 2019 has been opened until April 1, 2019 (UPDATE: The deadline for applications have been extended to April 19, 2019). Those who are interested are welcome to submit the application online here.
For more information, please contact an officer by email, visit the Facebook page, or visit the website.