07-May-2021
---
The AIEC 2021 hybrid conference has extended the Call for Proposals until Tuesday May 11 at 5pm (AEST).
The conference is set to take place on the Gold Coast or online from 5 to 8 October 2021 to explore new horizons for international education.
For more information, please visit: https://aiec.idp.com/ 
18-Mar-2021
---
The Universiti Brunei Darussalam – Borneo Studies Network Conference to be held June 30-July 1, 2021 has extended the Call for Papers until March 31, 2021. Find more information in the attachment below.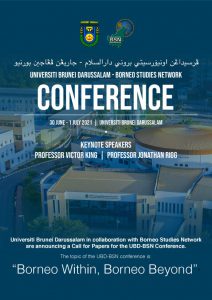 28-Jan-2021
---
Warmest greetings from Institut Teknologi Sepuluh Nopember (ITS Surabaya), Indonesia.

ITS in collaboration with 4 prominent universities in Asia is hosting an online international short program "Experiencing New Normal through 360 Camera" which will be held on 13 March – 17 April 2021. The detailed information could be found in the enclosed poster.

Important link and date:
Registration: bit.ly/registration360ITS
Deadline: 19 February 2021

Should there be any query, please do not hesitate to contact Mr Adi at international@its.ac.id. Thank you very much.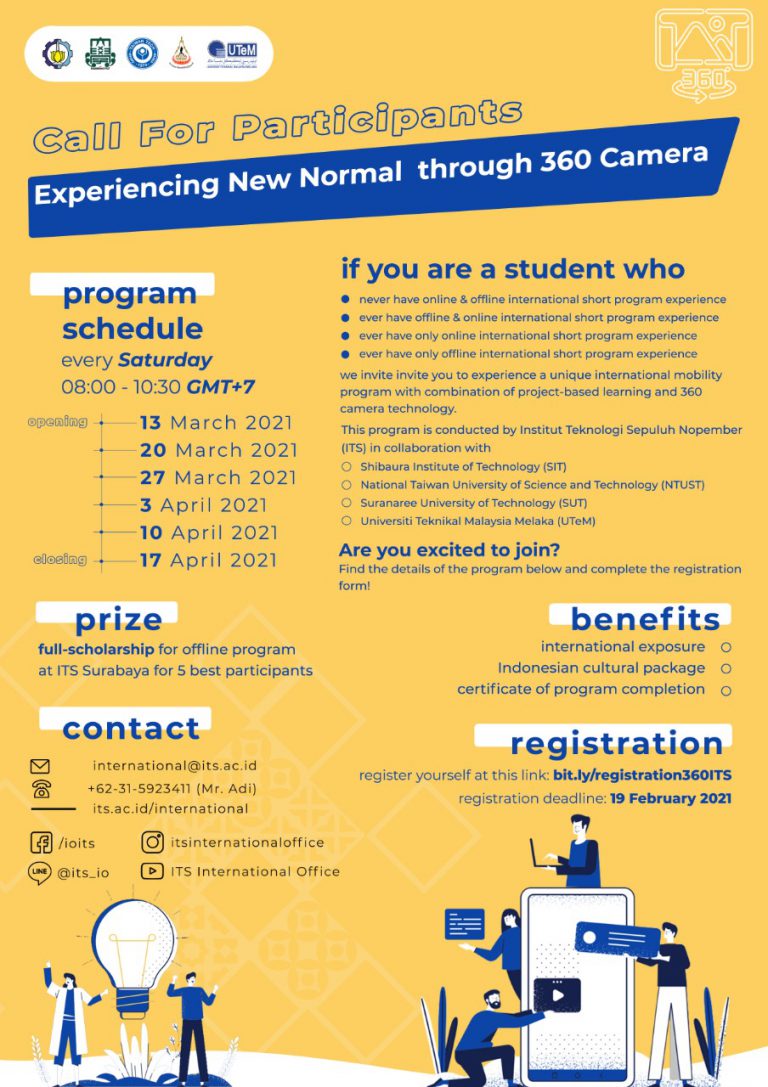 09-Nov-2020
---
Theme: Immigration/Diversity/Cross-Cultural Issues
Dates: October 24 – 31, 2020
Three UMAP institutions, UKM (Malaysia), De La Salle (Philippines), and Toyo (Japan), collaborated for a joint teaching project, focusing on "Immigration, Diversity, and Cross-Cultural Issues." The project was started on October 5th by exchanging lectures from three universities. From October 26, 108 participating from three universities, engaged in discussion for a week by using a new online system, Immerse U (Class 2 Class). The students were divided into 18 groups and discussed issues related to immigrants, overseas workers, and refugees. Then, at the final joint class on October 31st, each group engaged in creating posters that raise awareness of the human rights of those immigrants and foreign workers. It was quite an inspiring and enjoyable learning experience for students from three universities.

1. Instructors
UKM: Abdul Latiff Ahmad, Shazlin Amir Hamzah, Balqis Mustafa
DLS: Ron Bridget Vilog
Toyo: Shingo Ashizawa

2. No. of Participants
UKM: 32, De La Salle: 8, Toyo: 68,

3. Student Groups
There will be 18 groups and each group will consist of 6 students.

4. Goal of Joint Project
Each group will create a poster
1) The poster should contain advocacy or a message to raise awareness about the human rights of immigrants or overseas workers.
2) Students can use copyright free pictures or images from various websites.
3) Students create original statements based on discussion among themselves

5. Posters made by students

17-Sep-2020
---
Dear UMAP Friends and Colleagues,
Universiti Brunei Darussalam (UBD) has the pleasure to invite you to our inaugural 
UBD Global Perspectives Webinar: Building New Internationalisation Norms
Day/Date: Thursday 24 September 2020
Time: 10.00am (GMT +8)
Click Here or scan the QR code in the flyer below to join.
We look forward to seeing you there!
Kind regards,
Sabrina Daud, PhD
Director of Global Relations
Office of Assistant Vice-Chancellor (Global Affairs)
Universiti Brunei Darussalam (UBD) | Jalan Tungku Link BE1410 | Brunei Darussalam
E: sabrina.daud@ubd.edu.bn | T: +673 246 0922/3 Ext. 2112 | F: +673 246 3062 | W: www.ubd.edu.bn
09-Sep-2020
---
Hosted by the Higher Education Leadership Academy (AKEPT), Ministry of Higher Education Malaysia, and the National University of Malaysia (UKM), this webinar will be held using the Zoom platform.
Dates: Monday, 14 September from 10 am (Kuala Lumpur, GMT +8)
01-Sep-2020
---
The "NIAD-QE University Quality Assurance Forum 2020" invites experts from overseas to share insights of the principles under the UNESCO's the Tokyo Convention* and The World Convention** to explore cases and issues in recognition of diversified qualifications in regional and global education systems and deepen our understanding of the future roles of NICs in the world.
In addition, experts in Japan will introduce some of the changes made to higher education regulations in response to the Tokyo Convention, assessment of global human resources in the industry sector, and expectations and challenges in qualifications recognition in higher education. There will also be a discussion on how Japan should respond to the accelerating international development related to qualifications recognition in the post-COVID19 in which the importance of flexibility to adapt Volatility, Uncertainty, Complexity, and Ambiguity of the environment has become more explicit.
* Tokyo Convention: the Tokyo Convention on Recognition of Qualifications concerning Higher Education
** The Global Convention: the Global Convention on Recognition of Qualifications concerning Higher Education
Organizer: the National Institution for Academic Degrees, and Quality Enhancement of Higher Education (NIAD-QE)
Date: Wednesday, the 23rd of September, 2020, 15:30-17:30 (Japan time: GMT+9)
Venue: Online (YouTube). [the registration is required.]
Language: Both Japanese and English (English-Japanese Simultaneous interpretation)
Program: MC and Moderator: HOTTA, Taiji, Executive Director, NIC-Japan, NIAD-QE

*[Keynote Speakers from Overseas]

Libing WANG: Chief, Section for Educational Innovation and Skills Development (EISD), UNESCO Asia-Pacific Regional Bureau for Education, Bangkok, Thailand
Chantavit SUJATANOND: Centre Director, Southeast Asian Ministers of Education Organization Regional Centre for Higher Education and Development (SEAMEO RIHED)
Luca LANTERO: Director, Information Centre on Academic Mobility and Equivalence (CIMEA) in Italy and President, Lisbon Recognition Convention Committee Bureau


*[Speakers from Japan]

SATO Kuniaki: Director, Office for International Planning, Higher Education Bureau, Ministry of Education, Culture, Sports, Science, and Technology (MEXT)
YAMAMOTO Natsuki: General Manager, Human Capital Division(Japan), Human Capital Group, Hitachi Ltd.
SUGIMURA Miki: Vice President for Global Academic Affairs, Professor of Faculty of Human Sciences, Sophia University
TANIGUCHI Isao: President, National Institute of Technology


*Program and further information on the event is available here;
https://www.niad.ac.jp/english/news/en2020/uqaf2020.html


Registration:
http://icbrains.com/webclicker/ec/niad-uqaforum2020.php


Contact:
Secretariat for NIAD-QE University Quality Assurance Forum 2020
(within E.C.International, Inc.)
Telephone: +81-3-6459-3408
e-mail: niad-uqaforum2020@ec-intl.co.jp
17-Aug-2020
---
More than 130 students participated on this online-program for the past few weeks.
Please access to the link below to see the reports:


17-Aug-2020
---
"The Impact of COVID-19 and the Future of International Education"

The internationalization of universities has become a central topic for our society. However, the fostering of globally-minded talent, international student recruitment and admissions, internationalization of the campus environment and curriculum, and analysis of study abroad program outcomes have all stalled in recent years. As the COVID-19 pandemic has created a critical juncture in international education, it is now all the more important that we train and support the faculty and mid-level staff tasked with moving this work forward. Therefore, we are holding various workshops and sessions for the staff members and faculty who underpin university internationalization. This project is organized by the Research Consortium for the Sustainable Promotion of International Education (RECSIE) and held in cooperation with Kansai University IIGE (Institute for Innovative Global Education) and Toyo University.

We look forward to seeing you in Japan this summer.

Keynote Speakers:


Fiona Hunter
Fiona Hunter is Associate Director at the Centre for Higher Education Internationalisation (CHEI) at the Universita Cattolica del Sacro Cuore in Milan, Italy, and works as a consultant, trainer, and researcher with a focus on strategic change. She is also a member of the International Advisory Board at the Universidad de Granada, Spain, member of the Scientific Council of AVEPRO (Holy See's Agency for the Evaluation and Promotion of Quality in Ecclesiastical Universities and Faculties), and Co-Editor of the Journal of Studies for International Education. Fiona is an EAIE Past President.


Kuniaki Sato
Director, Office for International Planning,
Higher Education Bureau – Ministry of Education, Culture, Sports, Science and Technology


Chikara Funabashi
Project Director, Public-Private Joint Project for Overseas Education Promotion MEXT


Key Information
Location & Venue: Kansai University, Osaka, Japan
Dates: Wednesday, September 02, 2020 ​to Friday, September 04, 2020
Registration Deadline: August 21, 2020
Website:
https://siiej.org/
Contact
: Research Consortium for the Sustainable Promotion of International Education (RECSIE)
recsie@recsie.or.jp
Organiser:
Research Consortium for the Sustainable Promotion of International Education (RECSIE)
Co-sponsors:
IIGE Kansai University IIGE (Institute for Innovative Global Education) & Toyo University
Supporters:
Association of International Education Administrators (AIEA), UMAP International Secretariat, Japan Network for International Education (JAFSA), Japan Association of University Administrative Management, Japan Association for International Student Education (JAISE), BRIDGE Institute, The International Academic Forum (IAFOR)