06-Jul-2021
---
UMAP member institution Osaka City University, Japan, is offering a virtual program through their Socially Innovative Global Classroom September 13-24.  The topic of the program is, "SDGs:  Social Innovation in your Local Community toward Solving Global Issues."  The application deadline is July 20, 2021.  Please see website for application and complete details.
06-Jul-2021
---
UMAP member institution Daffodil International University, Bangladesh, is offering a virtual International Social Business Summer Program from August 14-18 on the topic of "New Minds for a New World.  The application deadline has been extended to August 9, 2021.  Please see website for application and complete details.  
18-Jun-2021
---
UMAP Thailand is rolling out their new online Micro-Credential Pilot Program.  Applications are being accepted for the first cohort of Strand A students, who will participate in a professional skills course on "Static Web Page for Data Display in Industrial Applications."  Complete program details are available here.  Online applications are available here.  Please note that applicants need to list the UMAP coordinator at their home institution and the coordinator will need to upload a letter of endorsement on behalf of the institution.  The application deadline is July 15, 2021 (1pm Thailand time).  There is no cost to participate for UMAP member institution students. 
15-Jun-2021
---
In collaboration with IIGE/Kansai University, we are delighted to announce the UMAP-COIL 2021 Program and call for student applications. The program will run from August 2-September 20, 2021 (pre-required sessions begin July 30) and is focused on the Sustainable Development Goals adopted by the United Nations. 
Approximately 50 students from UMAP member institutions who meet eligibility criteria will be selected to participate in this program.  There are no application or participation fees for UMAP students. Applications  must be received by the indicated contact person by July 1, 2021 (PDT) to be considered by the IIGE/Kansai University selection committee.
For more information on eligibility criteria, the application process, and student application form, please visit the UMAP-COIL program page. 
For more information about the current and past program content and details,  please visit the IIGE/Kansai University program website.
For all other inquiries, please email umap-is@umap.org 
04-Jun-2021
---
The Asia-Pacific Association for International Education (APAIE) 2022 annual conference will take place in Vancouver, BC March 27-31, 2022.  Registration and Call for Abstracts are now open.  The deadline to submit a session abstract is August 6, 2021.  Successful proposals will have a connection to both the conference theme and a selected sub-theme.   More information is available from the APAIE website.  
Conference Theme:
Brave New Realities for Higher Education in the Asia Pacific
22-May-2021
---
On May 25, 2021, Universiti Kebangsaan Malaysia in collaboration with National Cheng Kung University (NCKU) Overseas Hub will be hosting a webinar titled "International Strategies on Student Mobility in the Era of a Global Pandemic"
The future of international higher education has been a central issue during the global COVID-19 pandemic. This unprecedented health crisis has changed the landscape of prior perspectives on internalization and has caused substantial shifts in the physical international student mobility. Higher Education Institutions are required to find ways in adapting to the new norm in ensuring the continuity of these activities. During these travel restriction periods, virtual alternative programs are being actively designed to allow students from different parts of the world to participate in their area of interests.
In this webinar, we will be discussing the challenges of student mobility in the era of global pandemic trends, international strategies and approaches for successful virtual mobility programs as well as ways of addressing the challenges in the short term and beyond.  
The webinar will be held on Tuesday, 25th May 2021 from 10.00 am (Kuala Lumpur, GMT +8) using the Zoom platform.
Pre-registration
Participants are requested to pre-register for the event earlier. Please click the link below:
Registration: https://tinyurl.com/erapandemic
More information: 
https://www.ukm.my/pha/nckuwebinar/ 
Facebook Live: https://www.facebook.com/OIRUKM/ and https://www.facebook.com/NCKUOHinMalaysia/ 
07-May-2021
---
The AIEC 2021 hybrid conference has extended the Call for Proposals until Tuesday May 11 at 5pm (AEST).
The conference is set to take place on the Gold Coast or online from 5 to 8 October 2021 to explore new horizons for international education.
For more information, please visit: https://aiec.idp.com/ 
18-Mar-2021
---
The Universiti Brunei Darussalam – Borneo Studies Network Conference to be held June 30-July 1, 2021 has extended the Call for Papers until March 31, 2021. Find more information in the attachment below.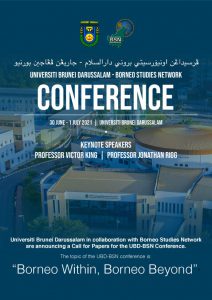 28-Jan-2021
---
Warmest greetings from Institut Teknologi Sepuluh Nopember (ITS Surabaya), Indonesia.

ITS in collaboration with 4 prominent universities in Asia is hosting an online international short program "Experiencing New Normal through 360 Camera" which will be held on 13 March – 17 April 2021. The detailed information could be found in the enclosed poster.

Important link and date:
Registration: bit.ly/registration360ITS
Deadline: 19 February 2021

Should there be any query, please do not hesitate to contact Mr Adi at international@its.ac.id. Thank you very much.