13-Jun-2022
---
King Mongkut's University of Technology Thonburi (KMUTT) is pleased to announce an Online Micro-Credential program. This program also provides extracurricular activities for cultural exchange and Thai language class. Earn a credential from the best science and technology university in Thailand in a way that is job-embedded, performance-based, and less time consuming. Experience practical learning designed to take you to the next career challenge – the way learning should be. KMUTT's Credential system is based on the belief that everyone has a unique set of capabilities attained through work and life experiences in any forms of learning. With an intention to provide a system that formally recognises the variety of competencies of a person, the micro-credential is designed to measure a competency or a demonstration of mastery of such skill in a robust, practical and scalable way. 
For more details, visit the full program description: https://usco2.umap.org/ProgramDetails/Details/370
09-May-2022
---
Toyo University, Japan, as Secretariat for the Online Exchange Program (OEP) is pleased to announce the call for participation for the Fall 2022 virtual education program.  
Each participating institution is asked to offer one to five courses for the OEP. For the fall 2022 semester, participating institution are asked to select courses related to the SDGs or environmental issues. There is no need to create new academic courses.
These are the guidelines for the program:
1. Courses available through OEP are preferably live online academic courses that offer opportunities for student interaction. The course topic of the OEP programs should be related to SDGs or environmental issues.
2. Each faculty/department/institution offering courses through OEP is recommended to offer one to five courses and at least two seats per course to exchange students. Each faculty/department/institution can then send the same number of students to other participating institutions. With the permission of the host university, it is possible to send a number of students that exceeds the home institutions' capacity to receive OEP students. The tuition fee should be waived.
3. Students can apply for up to four courses and enroll in up to two at the same time from the course list offered by participating universities. This condition aims to increase the number of participants in OEP courses and provide students with as many opportunities as possible to participate.
4. As a general rule, students are not permitted to cancel or withdraw from a course for which they have been accepted. If a student cancels because of force majeure, contingent reasons, or personal reasons, the student is required to inform the persons in charge at the host institution, as well as the OEP secretariat (Toyo University) through the student's home university/institution.
5. After the completion of the semester, host institutions are required to report to the OEP Secretariat at Toyo University on the completion status of the participating students (including UCTS credit conversion). Host institutions are requested to provide the same kind of transcript of records that they issue regularly to exchange students. Students and home coordinators will convert the credits to UCTS. For information about UCTS, please refer to: https://bit.ly/33lSQyq
To participate in the OEP, complete the Outline of Proposal Form and return it to Toyo University by June 23, 2022.
Students may apply from July 11-July 24, 2022.  Students submit applications through home institution coordinators, who will communicate via email with participating institutions.  This program is not based in the USCO system.  
For more details, please visit:  https://www.toyo.ac.jp/en/international-exchange/Online-Program/OEP/OEP2022/
12-Apr-2022
---
Airlangga Adventure (AIRVENTURE)
AIRVENTURE is an annual international program focusing on life sciences. This program aims to provide knowledge and experience regarding the natural resources in Indonesia. Through AIRVENTURE, participants are expected to be able to observe and explore the protection, preservation, management and restoration of flora and fauna as natural resources that should be taking care for. This program raises a SDG theme, namely "Protect, restore and promote sustainable use of terrestrial ecosystems, sustainably manage forests, combat desertification, and halt and reverse land degradation and halt biodiversity loss." 
The Program will take place from June 12- June 20, 2022
The program will be conducted onsite in Surabaya, Indonesia. Universitas Airlangga will cover the program fee during the participants' stay in Indonesia. The program fee includes:
1. Accommodation in Indonesia
2. Local transportation (in Indonesia)
3. Course fee
4. Visit fees
5. Meals
The participants are expected to pay for these following items (before arrival):
Flight tickets; Travel insurance; Personal expenses; Visa; PCR Test.
The application is open to UMAP students until May 6, 2022 through the USCO system:  https://usco2.umap.org/ProgramDetails/Details/50 (students must register for an account and log-in before they can access the application).
Click HERE For a detailed program brochure.
08-Apr-2022
---
Learn more about this summer's Discovery Camps in Canada and Indonesia. 
Couldn't attend the session?  Watch the recording now!
More details here:
04-Apr-2022
---
PANAGHIGALAAY 2022: Relate. Connect. Communicate.
April 23-24, 2022 at 5:00 PM to 8:00 PM (GMT+8)
THEME: "Bridging Cultural Difference through Arts and Creativity"
The Communicators' Organization for Development and Excellence (CODE), the Academic Club of the Bachelor of Arts in Communication students under the College of Arts and Humanities of UNIVERSITY OF THE IMMACULATE CONCEPTION is conducting an event entitled PANAGHIGALAAY 2022: Relate. Connect. Communicate. This will happen from April 23 to April 24, 2022 (Saturday and Sunday) at 5:00 PM to 8:00 PM via Google meet or Zoom Cloud Meeting. Upholding the theme, "Bridging Cultural Difference through Arts and Creativity." this event aims to:
1. enhance the cross-cultural communication skills of the students,
2. expand the knowledge of the students towards other cultures,
3. promote cultural awareness, understanding, and respect,
4. meet new people,
5. build new connections,
6. showcase the culture of one's country through cultural photography and film showing.
The event will also conduct a friendly virtual competition:
1. Cultural Photography
2. Short-Film Competition
***Please see Registration Form and Contest Mechanics on the link provided below.
Registration Fee: FREE
Attached herewith is the link for the event primer, contest mechanics, and the program flow of PANAGHIGALAAY for further information: https://drive.google.com/drive/folders/1kmqs59OkzCUHe7nvbMQxtdq4mkTsvukG?usp=sharing
For other inquiries, kindly contact the official Facebook Page on this link: https://www.facebook.com/UICCODE/,
or email at code@uic.edu.ph with the subject: PANAGHIGALAAY 2022 CONCERNS.
01-Apr-2022
---
small Changes,

BIG

 Impact
University of Regina, SASKATCHEWAN, CANADA
Program Overview
"Small Changes, Big Impact" is a solution based and experience oriented learning program to address sustainability topics from a Saskatchewan perspective. It is led by the University of Regina, in partnership with the University Mobility in Asia and the Pacific (UMAP), the Ministry of Advanced Education, Government of Saskatchewan, as well as other post-secondary institutions and agencies within the Province of Saskatchewan.
The program design adopts blended delivery modalities to create a unique learning environment, students will have two components to choose from:
Virtual Only
Asynchronous and synchronous sessions;
Ignite knowledge exploration and discussion with built-in topics and tailored themes;
Focus on the understanding of sustainability, sustainable development and related concepts and the practices and interconnections of human and environmental systems.
By the end of the virtual sessions, students will gain the fundamental knowledge of the SDG concepts. Students who are continuing with the in-person component are expected to identify one area or project that they would like to further explore during their in-person visit to Saskatchewan.
Blended (Virtual and In Person)
Immerse yourself in the land of living skies for a hands-on learning experience as true global citizens and begin the path to becoming a future Saskatchewan Student Ambassador;
Gain knowledge about what Saskatchewan has to offer in terms of resources, development and how sustainability is being woven into local communities;
Take part in professional discussions and visits with focus on hands-on practices and efforts in Saskatchewan to reflect the impact that small changes can make at a higher level.
The program concludes with a presentation of select student reflections or project reports to showcase how individual efforts and changes contribute to a community's sustainable development.
Discovery Camps are fully sponsored by the host organization so there is no cost to participate.  Participants in the blended program are responsible for arranging travel to and from Regina, Canada for expenses such as travel insurance and personal expenses. 
Non-Canadian students who are accepted to the UMAP Discovery Camp Canada 2022 Program may be eligible to receive a scholarship from the Government of Canada. Your application will be assessed by the International Secretariat and you will be contacted directly for further information if you qualify.
*All communications, events/workshops/lectures of the program will be in English language.
Full program details and information here: www.uregina.ca/international
Or click below to apply directly to the program in the USCO system:
Please note that students will need to register for an account and log-in before they can access the application page.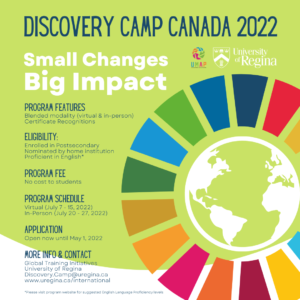 21-Mar-2022
---
Kansai University's IIGE is pleased to announce the Summer 2022 J-MCP Programs for your students from August 8 – September 20, 2022.
The call for applications is now open, with a deadline of 12:00 PM April 16, 2022 (JST).
For complete details, please carefully review the attached flyers and CFP.
There will be three themes.  Click on the theme to download the flyer:
SDGs and Business
Diversity and Inclusion
21st Century Skills 
PROGRAM DATES
Pre-Program Workshop: August 8 – 15, 2022(JST)*On-demand
Main Program: August 15 – September 16, 2022(JST)
Post-Program Workshop: September 16 – 20, 2022(JST)*On-demand
*Please check the time difference between JST and your location.
APPLICATION PROCEDURES (DEADLINE April 16, 12:00 PM JST)
Send the completed application form (download here) to kujmcp-1@ml.kandai.jp with the following title, inserting the date and your institution's information in the appropriate fields (ApplicationJMCP_Institution Name_Country_Date).
Please lock the application form and notify us of the password via email (kujmcp-1@ml.kandai.jp) upon submitting the form.
For more details on J-MCP, please visit https://kuiige.wixsite.com/j-mcp
14-Mar-2022
---
ECO-LEAP ENVIRONMENTAL SUMMIT 2022
March 25-26, 2022 – 12:30 Pm (GMT+8)
THEME: "A jump towards environmentalism amidst the pandemic"
The University of the Immaculate Conception in Davao City, Philippines in collaboration with the University Student Government and PharmChem CARES, will organize ECO-LEAP: Environmental Summit 2022 with the theme, "A jump towards environmentalism amidst the pandemic" in accordance with the Laudato Si goals of the university as well as to combat the signs of times during the pandemic. This summit aims to gather delegates across the world to convene virtually in order to bring about environmental awareness amidst this pandemic. As the world experiences the dire consequences of the COVID-19 pandemic, we will have the opportunity to explore the global outbreak's positive and negative environmental impacts.
OBJECTIVES:
1. To raise awareness and develop a deep understanding of the environmental challenges faced during the pandemic;
2. To gather student delegates to implement environmental cause in this time of the pandemic,
3. To develop specific steps/ideas for dealing with current environmental issues,
4. To conduct a plant a tree project to promote the importance of reforestation,
5. To introduce a reusable system to reduce disposable wastes, protect the environment, and reduce costs,
6. To respond to the goals of Laudato Si implemented by this university,
7. To outline possible ways to achieve long term environmental sustainability and benefits.
BENEFITS:
The ECO-LEAP: Environmental Summit 2022 will serve as an avenue for the participants across the world to convene virtually in order to bring about environmental awareness amidst this pandemic. The summit allows delegates to explore the areas in which they are most enthusiastic about choosing an emerging issue that is most suited to their advocacy goals. The initiatives obtained from the event will have an influence not only on the delegate, but also on the Mindanao community. The underlying benefits include:
– Promote environmental awareness
– Expand knowledge and analytical thinking
– Develop Creativity Skills
– Develop sustainable lifestyle
– Promote proactiveness
ECO-LEAP 2022 PHOTOGRAPHY CHALLENGE:
1. This challenge is open to all delegates of ECO-LEAP: Environmental Summit 2022,
2. The photo concept must follow the theme "Our environment amidst the Pandemic,"
3. Photo most be in JPEG format with at least 250 dpi (it can be in portrait or landscape format),
4. Photo most not contain any copyrighted material,
5. Entry must not contain date stamps, watermark or any text on the image,
6. Minimalist, abstract, digitally filtered, or any strategies are allowed in this challenge.
7. Photo captions must be one to three (1-3) sentences long which explains or describes the photography.
8. All entries must be submitted to its respective Google Drive link (which will be provided by the Project Core Committee) on or before March 20, 2022 (12 midnight).
9. The photo file must be named according to the university and country with the participant's name (Ex. UIC_Philippines – Aliyah Grace Zarza).
10. Once participants submit an entry, they automatically give consent for their entry to be posted and played on any of the social media accounts of the summit organizers and during the second day of the summit (March 26, 2022).
11. People's choice award will be based on the entry's number of likes in the Facebook Page from March 21 – March 24, 2022.
12. Failure to follow any of the given mechanics would mean DISQUALIFICATION from the competition.
13. The Project heads have the absolute discretion to adopt supplemental rules and guidelines for this competition as it deems appropriate and decide on any issues which may not be expressly addressed in these specific guidelines. The decision is FINAL.
CRITERIA FOR JUDGING: 100%
– Adherence/Appropriateness to Theme – 40%
– Uniqueness of Concept, Originality, and Clarity of Expression – 20%
– Humor, Creativity, and Innovative Means of Delivering Message – 20%
– Technical Execution, Visual Appeal, and Artistic Merit – 20%
To register, kindly use the QR Code found on the poster or fill the link below:
To know more details of the summit, kindly visit this link:
https://drive.google.com/drive/folders/102NI982gL3mmG8Nx_Bkuhh73eo1y3PfD?usp=sharing
07-Mar-2022
---
On behalf of Universitas Airlangga, we would like to share our upcoming programmes in 2022, intended for both students and lecturers.
1. INDIAIR 2022
INDIAIR is an international program specifically designed to expose international students to Indonesia's cultural diversity. Gender, Language, and Culture will be the main focus of INDIAIR 2022, hence the theme 'Truly Nusantara: Exploring Cultural Heritage on East Java'. This programme will be held online for four days, from 14th March until 17th March 2022.
INDIAIR Timeline
Application Deadline: 11th March 2022
Announcement: 12th March 2022
In participating in our programme, international students can have access to interactive virtual tours, traditional dance and song workshops, as well as a kendang play workshop. At the end of the programme, international students will be awarded with a certificate of completion and legitimate academic transcript. Top three international students who actively participated the most will receive special acknowledgement and be rewarded with some token of appreciation.
The programme fee for INDIAIR 2022 is fully waived.
Students can register themselves online by submitting a scanned passport identity page/official id/student card and their most recent passport photo (with red, blue or white background) to the following registration form and completing the form by 11 March 2022.
For more information, students can visit INDIAIR 2022 webpage or send further inquiries to int.development@global.unair.ac.id.
2. APD (Airlangga Post-Doctoral Fellowship)
APD is a three-month program designed to provide opportunities for promising young researchers to incorporate their knowledge into the relevant fields and enrich their research experiences with Universitas Airlangga. Those considered eligible are foreign academics (of non-Indonesian nationality) from leading domestic and foreign universities/university institutions or Indonesian diaspora/academics affiliated with foreign universities who possess a doctorate degree, with a maximum of five years from the date of graduation (proven by the date of graduation on the diploma issued by the university/higher education institution), and already have publications in reputable international journals.
Registration Period
1 February to 31 August 2022
(Both general application paths and faculty/research center recommendations)
Implementation Scheme
Due to the current pandemic situation, no offline scheme options will be provided. Therefore, the program will be conducted online.
For more information, visit APD webpage or send inquiries to: int.research@global.unair.ac.id
3. Academic Lecture
Academic Lecture at UNAIR offers opportunities for international academics to deliver an online course, online guest lectures, or writing clinics in a seminar class. An active professor/senior/lecturer (associate professor, assistant professor/lecture) in an overseas university, and/or any diaspora/Indonesian citizen who is affiliated with overseas universities and currently serves as an active academics and willing to deliver a lecture session for at least 1 topic from any courses relevant to their expertise is considered eligible as participant.
Please note that courses are subject to availability in each department/faculty at UNAIR. Therefore, please be advised to access them at unair.ac.id.
The registrations will be opened into three terms:
Q1. Registration: February – 11 March 2022; Program Activity: 12 March – 26 June 2022
Q2. Registration: 1 May – 31 July 2022; Program Activity: 1 August – 18 November 2022
For more information, visit Academic Lecture webpage or send your inquiries to Miss Mellya Junita Ulfa at inboundstaff@global.unair.ac.id.