18-Oct-2022
---
13-Jun-2022
---
King Mongkut's University of Technology Thonburi (KMUTT) is pleased to announce an Online Micro-Credential program. This program also provides extracurricular activities for cultural exchange and Thai language class. Earn a credential from the best science and technology university in Thailand in a way that is job-embedded, performance-based, and less time consuming. Experience practical learning designed to take you to the next career challenge – the way learning should be. KMUTT's Credential system is based on the belief that everyone has a unique set of capabilities attained through work and life experiences in any forms of learning. With an intention to provide a system that formally recognises the variety of competencies of a person, the micro-credential is designed to measure a competency or a demonstration of mastery of such skill in a robust, practical and scalable way. 
For more details, visit the full program description: https://usco2.umap.org/ProgramDetails/Details/370
02-May-2022
---
Calling all Students!
Did you miss the Student Information session on "How to Apply?"  Watch the video here!



12-Apr-2022
---
Airlangga Adventure (AIRVENTURE)
AIRVENTURE is an annual international program focusing on life sciences. This program aims to provide knowledge and experience regarding the natural resources in Indonesia. Through AIRVENTURE, participants are expected to be able to observe and explore the protection, preservation, management and restoration of flora and fauna as natural resources that should be taking care for. This program raises a SDG theme, namely "Protect, restore and promote sustainable use of terrestrial ecosystems, sustainably manage forests, combat desertification, and halt and reverse land degradation and halt biodiversity loss." 
The Program will take place from June 12- June 20, 2022
The program will be conducted onsite in Surabaya, Indonesia. Universitas Airlangga will cover the program fee during the participants' stay in Indonesia. The program fee includes:
1. Accommodation in Indonesia
2. Local transportation (in Indonesia)
3. Course fee
4. Visit fees
5. Meals
The participants are expected to pay for these following items (before arrival):
Flight tickets; Travel insurance; Personal expenses; Visa; PCR Test.
The application is open to UMAP students until May 6, 2022 through the USCO system:  https://usco2.umap.org/ProgramDetails/Details/50 (students must register for an account and log-in before they can access the application).
Click HERE For a detailed program brochure.
01-Apr-2022
---
small Changes,

BIG

 Impact
University of Regina, SASKATCHEWAN, CANADA
Program Overview
"Small Changes, Big Impact" is a solution based and experience oriented learning program to address sustainability topics from a Saskatchewan perspective. It is led by the University of Regina, in partnership with the University Mobility in Asia and the Pacific (UMAP), the Ministry of Advanced Education, Government of Saskatchewan, as well as other post-secondary institutions and agencies within the Province of Saskatchewan.
The program design adopts blended delivery modalities to create a unique learning environment, students will have two components to choose from:
Virtual Only
Asynchronous and synchronous sessions;
Ignite knowledge exploration and discussion with built-in topics and tailored themes;
Focus on the understanding of sustainability, sustainable development and related concepts and the practices and interconnections of human and environmental systems.
By the end of the virtual sessions, students will gain the fundamental knowledge of the SDG concepts. Students who are continuing with the in-person component are expected to identify one area or project that they would like to further explore during their in-person visit to Saskatchewan.
Blended (Virtual and In Person)
Immerse yourself in the land of living skies for a hands-on learning experience as true global citizens and begin the path to becoming a future Saskatchewan Student Ambassador;
Gain knowledge about what Saskatchewan has to offer in terms of resources, development and how sustainability is being woven into local communities;
Take part in professional discussions and visits with focus on hands-on practices and efforts in Saskatchewan to reflect the impact that small changes can make at a higher level.
The program concludes with a presentation of select student reflections or project reports to showcase how individual efforts and changes contribute to a community's sustainable development.
Discovery Camps are fully sponsored by the host organization so there is no cost to participate.  Participants in the blended program are responsible for arranging travel to and from Regina, Canada for expenses such as travel insurance and personal expenses. 
Non-Canadian students who are accepted to the UMAP Discovery Camp Canada 2022 Program may be eligible to receive a scholarship from the Government of Canada. Your application will be assessed by the International Secretariat and you will be contacted directly for further information if you qualify.
*All communications, events/workshops/lectures of the program will be in English language.
Full program details and information here: www.uregina.ca/international
Or click below to apply directly to the program in the USCO system:
Please note that students will need to register for an account and log-in before they can access the application page.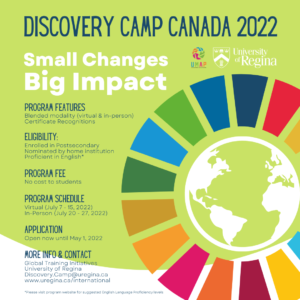 24-Feb-2022
---
Sustain the World Virtual Camp 2022, offered by the Universiti Teknologi Mara (UiTM) Malaysia, featuring the theme "Path to a Sustainable Future " will expose participants to the concept of sustainability and how to mitigate sustainability issues. Additionally, participants will able to learn about and practice a sustainable lifestyle for a better world. This year STWVC 2022 brings more exciting activities and challenging competitions.
List of activities:
Insight Talk 1.0 and Insight Talk 2.0
Workshop: From Trash to Treasure
Talk: Importance of Sustainable Development Goals (SDGs) to create a sustainable future.
World Water Day's Talk
Forum: Effect of Technology Advancement toward Carbon Footprint
List of Competitions.
Technical Video Competition
Infographic Competition
Trash to Treasure Competition
Date of Program: 18th of March 2022 – 29th of March 2022
Platform: Cisco WebEx  
Prize worth RM1900 + E-certificate
Registration Link:
04-Feb-2022
---
Resonating with UN Conference on Climate Change, COP26, to take action on climate change with one of the goals of securing net zero by mid century, gPBL@SUT 2022 calls for students as young people, to come forward and ideate for ways to reach net zero within your campus, in the virtual camp themed "Race to Zero Campus." The poster and schedule are enclosed. The event is free-of-charge. Highlights of last year's event can be found here (https://youtu.be/br2JSYfE_ow).
The objective of the camp is to address net zero issues on campus. As campus life resumes post pandemic, how might we do so in a more responsible, climate change aware and sustainable way.
 Join up with 60 international students to come up with ideas and innovation concepts to trigger behavioral changes, and solutions on campus to help curb climate change.
This international camp has been organized onsite at SUT every year. However, due to the COVID-19 outbreak, the camp has been transformed into a virtual camp. International students will form team with SUT students and virtually explore their campuses for net zero challenges, then select an issue close to heart and brainstorm to propose for conceptual solution or innovation prototypes that would help reach net zero on campus.
Highlights include:
Start off with equipping students with tools of problems exploration, project management
Green transportation experts
Green consumption experts
Climate action and block chain
MyCampus sharing campus efforts and challenges 
Multinational teamwork competency, a skill highly valued in international firms
An e-certificate given to students after completing the program
Non-SUT students who wish to claim credits and SUT transcript for gPBL1-2-3 courses, may do so through SUT's global online course program.
We kindly ask for interested students to apply in the Google form by February 28, 2022  so that we can manage the activities.
Apply Link >> https://forms.gle/3um49gUntRuzru8v9
06-Jan-2022
---
Osaka City University (OCU) is offering an online program to develop collaborative social innovators, using Collaborative Online International Learning (COIL).  The Socially Innovative Global Classroom (SIGLOC), a collaborative educational program with overseas students, will take place March 10-March 25, 2022 and is free for students from UMAP member institutions. 
The deadline to apply is February 4, 2022. 
For detailed program guidelines and application information, please visit:  http://www.coil.osaka-cu.ac.jp/en/blog/10th_sigloc_online/
Please note that the program will also be offered in July and September 2022.
16-Oct-2021
---
This coming November, we hope to invite your students to our third iteration of the International Electronic Service Learning Program (IE-SLP) entitled: "Hábi: Service-Learning towards Human Fraternity for World Peace and Living Together."
This virtual program is deeply aligned with Ateneo de Davao's mission of social justice, community engagement, and intercultural understanding.  In this service-learning program, student participants are empowered as youth leaders and young advocates to engage with and share the advocacies of Ateneo de Davao's partner communities in Mindanao. Such advocacies include peacebuilding, empowerment of vulnerable groups (women and children), and indigenous education.
The IE-SLP is a 4-week virtual service-learning program that provides a virtual space for holistic formation through intercultural dialogue and meaningful transnational encounters with our partner communities.
As inspired by the "Document on Human Fraternity for World Peace and Living Together", this November cycle's theme further invites participants "to remain rooted in the values of peace, to defend the values of mutual understanding, human fraternity, and harmonious coexistence." The IE-SLP aims to develop young leaders with the principles of social justice and reconciliation and nurture their skills to transform their own communities.
 We extend this invitation to participate to you and your student nominees, with the hopes that we can share this avenue for distanced learning and remote service immersion. We truly hope your students can join us.
The call for nominations is ongoing.  Please click here for complete details.  We are also open to arranging a Zoom meeting to discuss our service-learning program further with you. We would be happy to meet you within this week or the next to explore how this special program can better host you and your students.