12-Sep-2023
---
Host Institution
Institut Teknologi Sepuluh Nopember
Host Country
Indonesia
About
UMAP's signature Discovery Camp program is being offered in beautiful Indonesia in early 2024. Students choose from 1-2 week programs learning about Indonesian cities, cultures, and UN SDG implementation.
Application deadline
11/15/2023
14-Aug-2023
---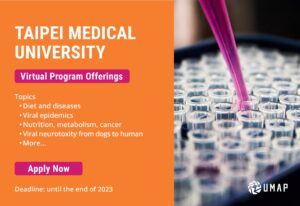 Host Institution
Taipei Medical University
Host Country
Taiwan
About
Check out a variety of virtual research internships covering topics from nutrition to cancer and diseases. Applications are considered on a on-going basis.
Application deadline
12/31/2023
18-Jul-2023
---
Host Institution
Various
Host Country
Brunei, Canada, Colombia, Indonesia, Japan, Kyrgyzstan, Malaysia, Mexico, Mongolia, Taiwan, Thailand, Vietnam
About
Students from UMAP member institutions offering Program A/B Winter 2024 Programs can apply now until August 4. Check out all available programs on USCO2 by selecting Program A/B.
Application deadline
08/04/2023
30-Jun-2023
---

Host Institution
Kansai University
Host Country
Japan
About
This FREE COIL/ Virtual Exchange course is designed to help students acquire the knowledge and skills needed to succeed in the 21st century workplace (e.g. critical thinking, digital literacy, intercultural collaboration, cross-cultural communication and presentation skills) through collaborative projects with overseas peers.
Application deadline
07/18/2023
01-Jun-2023
---
Host Institution
Universiti Malaysia Terengganu
Host Country
Malaysia
About
Guided by SEATRU Scientists and research assistants,  this program teaches you everything about sea turtles. From how monitor their nesting process, to how to tag and measure them, and much more! 
Application deadline
07/31/2023
27-Apr-2023
---
Host Institution
FPT University
Host Country
Vietnam
About
This 10-day program in August 2023 will feature specialized programming in entrepreneurship or global communication, as well as exotic cultural activites and intercultural exchange in the beautiful beach city of Da Nang.
Application deadline
06/10/2023
12-Mar-2023
---
Host Institution
Sias University
Host Country
China
About
This 7-day program will focus on the culture, history, and economy of China, through the lens of SDG 9: Industry, Innovation, and Infrastructure. All in-country expenses (accommodation, meals, transportation) are included in the program.
Application deadline
04/28/2023
01-Mar-2023
---
Host Institution
Royal Roads University
Host Country
Canada
About
Gain leadership skills while heightening English and intercultural competencies. Blending experiential and challenge-based learning, this program actively engages students to apply their learning to actionable projects in teams with the objective of making positive change in the world, both locally and globally. Accepted students may be eligible for the UMAP Canada Scholarship.
Application deadline
06/15/2023
31-Jan-2023
---
Host Institution
Universidad Adolfo Ibanez (UAI)
Host Country
Chile
About
UAI offers two-four week, tailor made courses for undergraduate students. They are curated to help students develop new skills and empower themselves. 

Application deadline
4/30/2023